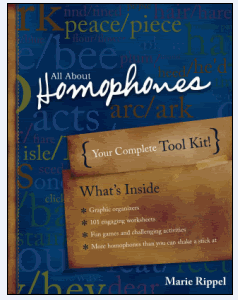 Brought to you by the creator of All About Spelling (
see review of AAS here
), Marie Rippel has now published
All About Homophones
. This 240-page workbook takes children (suggested grades 1st-8th) through fun activities while they learn and test their knowledge of common homophones--words that sound alike but are spelled differently and have different meanings. For the teacher the book provides worksheets of different kinds of graphic organizers, a list of suggested children's books that are helpful in learning homophones (great idea!), answer keys, and a master list of homophones used in the book as well as a long list of others. For the student there are fun fill-in-the-blank worksheets, ready-to-print-on-cardstock card games, crossword puzzles, riddles, puns, and tongue twisters. Also provided is a simple worksheet where the student can record the homophones they have learned in one list.
My final verdict:
It is a fun workbook that can get kids excited about a pretty neat phenomenon in the English language! My daughter (grade K) enjoyed going through the activities for the homophones for grade 1 and some of grade 2. She even explained to her dad what homophones are and then quizzed him to see if he knows the difference between "be" and "bee" and "see" and "sea." What a blast to see her learn it, review it, and then teach it to someone else! The book is available in hardcopy as a softback workbook for $29.95 or as an E-book for $27.95. ALERT: Special offer that is good only until February 2, 2009: get $10 off any order of
All About Homophones
with coupon code
FUN
.
See some sample pages from the workbook.